1910 - Bee Ho joins California Frank's All-Star Wild West
Bee Ho and Ada appear in several newspaper articles and photos with the Miller Brother's 101 Ranch as early as 1907. However, the both left that organization to join California Frank's All-Star Wild West in 1910 which operated sporadically under a number of different names until the early 1930s.
On January 4, 1911, a letter presumably from one of the Miller Brothers was written to their partner, Edward Arlington. It discusses a prospective business deal with California Frank as well as the fact that Bee Ho and Ada had left California Frank's show, leaving him without a headlining act. See the full text of the letter below the scans.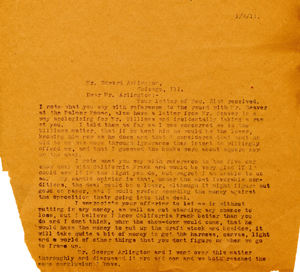 Click on image to enlarge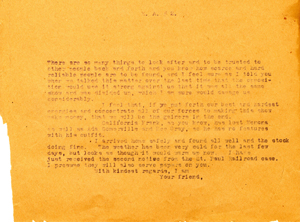 Click on image to enlarge
Text of letter to Edward Arlington
1/4/11
Mr. Edward Arlington,
Chicago, Ill.

Dear Mr. Arlington:-
Your letter of December 31st received. I note what you say with reference with the round with Mr. Seaver at the Palmer House, also have a letter from Mr. Seaver in a way apologizing for Mr. Williams and incidentally taking a rap at you. I told them as fas as I was concerned as to the Williams matter, that if he kept him he would be the loser, knowing him now as he does and that I considered that what he did to me was more through ignorance than intent to willingly offend me, and that I guessed the books were about square now on the deal.
I note what you say with reference to the five car show deal with Californai Frank and would be very glad if I could see it in the light you do, but regret I am unable to do so. My candid opinion is that, under the most favorable conditions, the deal would be a loser, although it might figure out good on paper, and I would prefer spending the money against the opposition than going into this deal.
I appreciate your offering to let me in without putting in any money, as well as not standing any chance to lose, but I believe I know California Frank better than you do and I don't think, when the show-down would come, that he would have the money to put up the draft stock and besides, it will take quite a bit of money to get the harness, canvas, light and a world of other things that you don't figure on when we go to frame up.
Mr. George Arlington and I went over this matter thoroughly and discussed it pro and con and we both reached the same conclusion I have.
E. A. p. 2
There are so many things to look after and to be trusted to other people back and forth and you know how scarce and hard reliable people are to be found, and I feel sure as I told you when we talked this matter over the last time that the opposition would use it strong against us that it was all the same show and was divided up, which I am sure would damage us
considerably.
I feel that, if we put forth our best and hardest energies and concentrate all of our forces to making this show make money, that we will be the gainers in the end.
California Frank, as you know, has lost Wenona as well as Ada Sommerville and Bee Gray, so he has no features with his outfit.
I arrived home safely and found all well and the stock doing fine. The weather has been very cold for the last few days, but looks as though it would warm up now. I have just received the second notice from the St. Paul Railroad case. I presume they will also serve papers on you.
With kindest regards, I am
Your friend,